Posts for tag: gum disease
By Dr. Dennis Long and Associates
August 12, 2019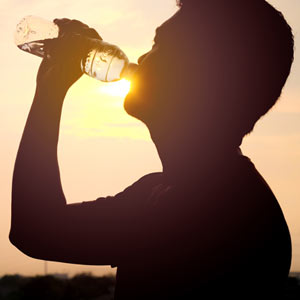 In many parts of the country, summer is often a synonym for "blast furnace" and can be downright hot and miserable. If you find yourself in such a climate, it's imperative that you drink plenty of water to beat both the heat and heat-related injuries. Your teeth and gums are another reason to keep hydrated during those hot summer months.
Your body needs water to produce all that saliva swishing around in your mouth. When you have less water available in your system, the production of this important bodily fluid can go down—and this can increase your risk of dental disease. That's because saliva performs a number of tasks that enhance dental health. It helps rinse the mouth of excess food particles after eating that could become a prime food source for disease-causing bacteria. It also contains antibodies that serve as the first line of defense against harmful microorganisms entering through the mouth.
Perhaps saliva's most important role, though, is protecting and strengthening enamel, the teeth's outer "armor" against disease. Although the strongest substance in the body, enamel has one principal foe: oral acid. If the mouth's normally neutral pH becomes too acidic, the minerals in enamel begin to soften and dissolve. In response, saliva neutralizes acid and re-mineralizes softened enamel.
Without a healthy salivary flow protecting the mouth in these different ways, the teeth and gums are vulnerable to assault from bacteria and acid. As they gain the upper hand, the risk for tooth decay or periodontal (gum) disease can skyrocket. Keeping yourself adequately hydrated ensures your body can produce an ample flow of saliva.
By the way, summer heat isn't the only cause for reduced saliva: Certain prescription medications may also interfere with its production. Chemotherapy and radiation, if targeting cancer near the head or neck, can damage salivary glands and impact flow as well.
If you have reduced saliva from medication you're taking, talk to your doctor about switching to an alternative prescription that doesn't affect saliva production. If you're undergoing cancer treatment, be extra vigilant about your oral hygiene practice and regular dental visits. And as with summer heat, be sure you're drinking plenty of water to help offset these other effects.
Even when it's hot, summertime should be a time for fun and relaxation. Don't let the heat ruin it—for your health or your smile.
If you would like more information about the oral health benefits of saliva and how to protect it, please contact us or schedule an appointment for a consultation.
By Dr. Dennis Long and Associates
May 04, 2019
Did you ever brush your teeth and find that your gums were bleeding slightly? This unwelcome discovery is more common than you might think — and it might have something to tell you about your oral health. Here are five things you should know about bleeding gums.
As much as 90% of the population occasionally experiences bleeding gums. It happens most often while brushing — and it's often a sign of trouble, indicating that your gums are inflamed and/or you aren't brushing or flossing optimally.
Bleeding gums can be an early warning sign of gum disease. In its earliest stages, this malady is called gingivitis, and it's quite common. About 10 to 15 percent of people with gingivitis go on to develop a more serious form of gum disease, called periodontitis. If left untreated, it can lead to gum recession, bone loss, and eventually tooth loss.
A professional exam is the best way to tell if you have gum disease. Your dentist or hygienist may use a small hand-held instrument called a periodontal probe to check the spaces between your teeth and gums. When gum tissue becomes detached from the teeth, and when it bleeds while being probed, gum disease is suspected.
Other symptoms can confirm the presence of gum disease. These include the presence of pus and the formation of deep "pockets" under the gums, where gum tissues have separated from teeth. The pockets may harbor harmful bacteria, and need to be treated before they cause more damage.
Several factors may influence the health of your gums. How effectively you brush and floss has a major impact on the health of your gums. But other factors are important too: For instance, women who are pregnant or taking birth control pills sometimes have bleeding gums due to higher hormone levels. Diabetics and people with compromised immune systems often tend to have worse problems with periodontal disease. Certain drugs, like aspirin and Coumadin, may cause increased bleeding; smoking, by contrast, can mask the presence of gum disease by restricting blood flow.
It's never "normal" to have bleeding gums — so if you notice this problem, be sure to have an examination as soon as you can. If you have questions about bleeding gums or periodontal disease, contact us or schedule a consultation. You can read more in the Dear Doctor magazine article "Assessing Risk For Gum Disease."
By Dr. Dennis Long and Associates
November 09, 2017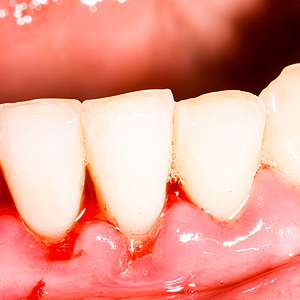 Periodontal (gum) disease is a devastating infection that eventually causes tooth loss if not treated. Plaque removal, antibiotics and possible surgical intervention have proven quite effective in stopping the infection and restoring diseased tissues; however, the more advanced the disease, the more difficult it can be to treat. It's important then to know the warning signs of gum disease.
Bleeding gums are the most common early sign of gum disease. The infection triggers tissue inflammation, the body's defensive response to isolate and fight bacteria. As the inflammation becomes chronic, however, it can weaken the gum tissues, which will then bleed easily.
Bleeding, though, is often overlooked as normal, perhaps from brushing too hard. In actuality, bleeding gums is not normal: if your gums routinely bleed during normal brushing and flossing, you should contact us for an examination as soon as possible. Similarly, if your gums are red, swollen or tender to the touch, this is also a sign of inflammation and an indication of infection.
Gum disease is often called a "silent" disease, meaning it can develop without any indication of pain or discomfort. Sometimes, though, bacteria can concentrate in a particular portion of the gum tissue to form a periodontal abscess. In this case, the abscessed tissue can become very painful, swollen and red, and may even discharge pus.
There are also advanced signs of gum disease. If your teeth are painfully sensitive when you brush, consume something hot or cold, or when you bite down, this may mean the gums have pulled back (receded) from the teeth and the highly sensitive dentin and roots are now exposed. Teeth that appear to have moved or that feel loose may mean the gum tissues have significantly detached from the teeth as increasing amount of bone loss occurs. If you see any of these signs you should contact us without delay.
Regardless of the level of disease advancement when diagnosed, prompt treatment should begin as soon as possible. This is the only way to bring the infection under control and give the gum tissues a chance to heal and rejuvenate. From then on, it's a matter of renewed dental hygiene, frequent cleanings and checkups and an ever vigilant eye for signs of returning infection.
If you would like more information on the diagnosis and treatment of gum disease, please contact us or schedule an appointment for a consultation. You can also learn more about this topic by reading the Dear Doctor magazine article "Warning Signs of Periodontal (Gum) Disease."