Posts for tag: dental implant
By Dr. Dennis Long and Associates
November 14, 2020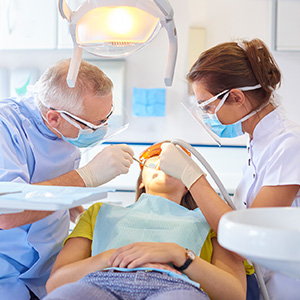 After years battling disease, your troubled tooth reached its useful life's end. It's been extracted, and we've replaced it with a life-like dental implant. So now, as far as the implant goes, disease is no longer an issue…right?
Sorry, no—though not to the same degree as a natural tooth, an implant could be endangered by gum disease. Although the implant's materials can't be infected, the supporting gums and bone can.
In fact, there's a particular type of gum disease associated with implants known as peri-implantitis ("peri" around an implant; "itis" inflammation) that first affects the gums surrounding an implant. Although peri-implantitis can arise from an excess of dental cement used to affix the crown to the implant, it most commonly starts like other forms of gum disease with dental plaque.
Dental plaque, and its hardened form calculus (tartar), is a thin, bacterial biofilm that builds up on teeth surfaces. It can quickly accumulate if you don't remove it every day with proper brushing and flossing. The bacteria living in plaque can infect the outer gum tissues and trigger inflammation.
Gum disease around natural teeth can spread quickly, but even more so with implants. That's because the natural attachment of the gums helps supply antibodies that impede infection. Implants, relying solely on their connection with the bone, don't have those gum attachments. As a result, peri-implantitis can move rapidly into the supporting bone, weakening the implant to the point of failure.
The good news, though, is that peri-implantitis can be treated successfully through aggressive plaque removal and antibiotics. But the key to success is to catch it early before it progresses too far—which is why you should see your dentist at the first sign of gum swelling, redness or bleeding.
You can also prevent peri-implantitis by practicing daily brushing and flossing, including around your dental implant. You should also see your dentist twice a year (or more, if they advise) for cleanings and checkups.
Dental implants overall have a greater than 95% success rate, better than any other tooth restoration system. But they still need daily care and regular cleanings to ensure your implants are on the positive side of those statistics.
If you would like more information on caring for your dental implants, please contact us or schedule an appointment for a consultation.
By Dr. Dennis Long and Associates
August 06, 2020
Nothing beats the form and function of a real tooth—but dental implants come pretty close. That's why they're tops among both dentists and patients for replacing missing teeth.
Much of an implant's functionality and durability can be credited to its material construction, from the titanium metal post imbedded in the jawbone to the lifelike porcelain crown attached at its other end. But an implant's "nuts and bolts" isn't the only reason why this premier dental restoration is so popular: A good portion of their success comes from the adjunct support provided by digital technology.
Without this varied array of computer-based applications used in planning, designing and installing them, implants couldn't produce the level of satisfactory outcomes they currently do. Here then are a few of the high-tech tools dentists use to make sure your implants result in a winning smile.
CBCT scanning. Implant placement requires a high degree of precision often complicated by various anatomical structures like nerves, blood vessels and sinuses within the gums and jaws. Cone Beam Computer Tomography (CBCT) scanners rotate around a patient's head, taking hundreds of digital x-ray images that are then assembled into a 3-D model image. Dentists can view this model from various angles to identify obstacles and better pinpoint the best implant locations.
Digital impressions. Dentists can also create a 3-D digital impression model of the inside of a patient's mouth that can give them views of their current teeth and gums from any angle. This aids in determining the size and type of implant so that it blends seamlessly with remaining teeth. A digital impression can also provide both the dentist and patient a preview appearance of their future smile after treatment.
3-D printed surgical guides. To accurately drill the implant site during surgery, dentists often create a custom-made device called a surgical guide that fits into the patient's mouth during the procedure. Using results from scanning and digital impressions, highly accurate guides can be created with a 3-D printer. This further ensures that the implant will be in the exact best location for the most attractive and functional outcome.
Implantology is as much art as it is science in achieving a beautiful smile. These and other digital tools help make that desirable end a reality.
If you would like more information on dental implants, please contact us or schedule an appointment for a consultation.